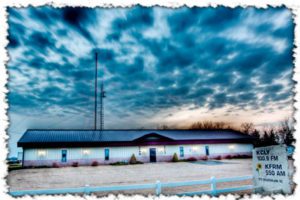 Since 1947, KFRM has been entertaining and informing people in the Midwest. For many years KFRM was one of the leaders in Country Music, and delivering information to their many listeners. KFRM went through several owners and format changes, but it has always been successful as an agriculture station.
Taylor Communications Incorporated negotiated the purchase of KFRM, and took over operations on September 30, 1996. We made a commitment to include the best of the traditions of KFRM and better it with the information many farmers and ranchers need to enhance the bottom line of their operations. Our programming is focused on the innovators and decision makers through Full Time Farm Talk Radio.
KFRM works every day, just like farmers and ranchers. Every market day, the KFRM staff delivers over 30 commodity and livestock reports, including commentaries by Tom Leffler, Mark Gold, and Sue Martin. Agriculture information dictates our programming. When news is happening or when a shift happens in the market, we will have it on the air through our field reporters. With the use of DTN Instant, KFRM is on-line with instant quotes from the Kansas City Board of Trade, Chicago Board of Trade, and Chicago Mercantile Exchange.
The weather is important too, and we give three updates per hour. The KFRM Sale Ring is offered three times a day, open to all Livestock Sale Barns, Farm Machinery Auctions, Real Estate Auctions, and Antique Auctions.
We produce daily agricultural public affairs and a technology program, Agricultural Perspectives in which a member of our broadcast team interviews the industry leaders and policy makers throughout the state and the nation. In addition, commodity and farm organization programs are broadcast daily.
We are proud to be associated with agriculture, learning from its past, and positive about its future. Information is the key to being successful in agriculture and agri-business. Full time farmers and ranchers want Full Time Farm Radio. We are with them from sunup to sundown, delivering what they need to know, when they need it. We are "The Voice of the Plains." It's more than just a slogan, we are out to prove it everyday. If your business involves getting your message to the farmers and ranchers in the High Plains Region, you've found your source KFRM 550 AM.