Overland Park, KS — Kansas voters rejected a proposed state constitutional amendment Tuesday that would have stripped the right to an abortion — marking a stand for abortion rights in a heavily Republican state in the first vote since the fall of Roe v. Wade.
The vote, for now, preserves abortion access in Kansas and bucks a regional trend toward bans possible after the federal right was overturned — and that has made Kansas an abortion destination.
Nearly 60% of voters chose to keep abortion access in the Kansas Constitution.
Kansas For Constitutional Freedom, the main abortion rights group opposing the amendment, called the victory "huge and decisive."
"The people of Kansas have spoken," said Rachel Sweet, campaign manager for the group. "They think that abortion should be safe, legal and accessible in the state of Kansas."
People across the country watched Kansas as a possible bellwether and how a traditionally conservative state — one that's been the focus of national anti-abortion protests and the site of the assassination of a physician who performed the procedure — would react after the nation's high court flipped on perhaps the most divisive social issue in the country.
The U.S. Supreme Court's ruling earlier this summer raised the stakes in Kansas and supercharged the political fight that ignited protests, contentious campaigns and a flood of out-of-state campaign money.
President Joe Biden hailed Tuesday's vote and called on Congress to pass a law to restore nationwide abortion rights that were provided by Roe.
"This vote makes clear what we know: the majority of Americans agree that women should have access to abortion and should have the right to make their own health care decisions," Biden said in a statement.
In the lead-up to the vote, supporters argued the amendment was necessary to correct what they see as the Kansas Supreme Court's overreach by striking down some of the state's previous abortion restrictions in 2019.
Opponents contended that the amendment would have set up state lawmakers to pursue a total ban like other Republican-dominated states.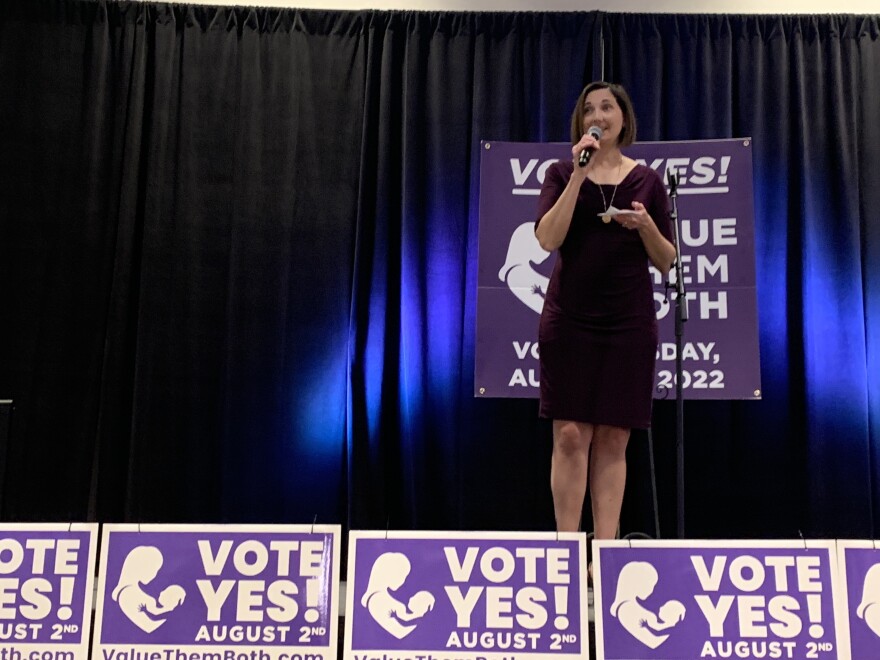 The vote tally veered far from polling. A poll conducted by the firm co/efficient and published by FiveThirtyEight showed 47% of respondents planned to support the amendment, while 43% said they would vote against it.
Additionally, the poll showed only 5% of those surveyed want a complete ban on abortion, while 43% believe there should be no government restrictions.
Then came Election Day and a record turnout. While Republicans had the more competitive primaries on the ballot, the abortion rights side turned out the vote for a roughly 60/40 defeat of the amendment. That came after abortion rights activists poured millions into the state. They overcame ballot language widely criticized for being confusing, and an 11th-hour robotext blast that said a vote for the amendment would support women's "reproductive rights." Such a vote would have set the stage for more restrictions.
An overwhelming victory
Struggling to speak after the race was called, 23-year-old Overland Park resident Jae Moyer said the decisive victory in the deep-red state was surprising.
"It's never looked like this in Kansas," Moyer said. "It's so amazing. I'm so proud of my state right now."
But Kansas voters appeared to be galvanized to protect abortion rights in the state after they were scrapped at the national level. That and bans in neighboring states energized opposition.
Planned Parenthood donated millions of dollars to the opposition effort. The abortion rights group said the large turnout came during a primary election, where it had strategically been placed by Republican lawmakers to focus on conservative GOP voters.
"Anti-abortion politicians put this amendment on the primary ballot with the goal of low voter turnout," said Emily Wales of Planned Parenthood Great Plains Votes, "but they discounted Kansans, who said loud and clear they believe and trust patients to make their own medical decisions."
Access to abortion in Kansas remains limited. The state has only four clinics where abortions remain available, all in the Wichita and Kansas City areas.
That leaves many Kansans in the western part of the state hundred of miles away from abortion care. Many are closer to abortion providers in other states, like Colorado.
Trust Women, which operates two fo the clinics in Kansas, said it will continue providing abortion care while also working to expand access throughout the state.
"We cannot be content with the status quo," the organization said. "The loss of Roe has brought with it an unprecedented and manufactured health care crisis that is not solved by this election."
Abortion opponents not done
Kansans For Life, a major political group that opposes abortion, said in a news release that the vote is a temporary setback and the organization remains dedicated to continuing its work opposing abortion.
"While the outcome is not what we hoped, our movement and campaign have proven our resolve and commitment," the organization said in the news release. "We will not abandon women and babies."
But what can be done to further restrict abortion in Kansas at the moment is unclear.
Republican State Sen. Molly Baumgardner, who supported sending the amendment to voters, said she wanted to reinstate some of the state laws that were struck down by state courts. But that won't be happening now.
Instead, Baumgardner said abortion opponents will need to look at new restrictions to try to decrease the number of abortions in the state.
"The defeat this evening is disappointing," she said. "That struggle for truth, and the struggle for life, is going to continue in the state of Kansas."
Fearing a ban
Republican legislators largely remained coy before the vote about how far they wanted to restrict abortion access if the amendment had passed. But some feared they would have followed moves in nearby states.
Significant bans installed in Oklahoma and Texas over the last year led to many women from those states seeking abortions in Kansas, turning the deeply red state into an unlikely refuge for abortions. Kansas was already an abortion destination for women in western Missouri. And that state enacted a ban after the U.S. Supreme Court ruling.
Abortion rights opponents seized on that issue, suggesting the state high court's ruling turned Kansas into an abortion destination that lacked significant restrictions.
But Kansas does have some of the tougher abortion restrictions in the country, including limiting abortions after 22 weeks of pregnancy to only cases where the pregnant woman's life is in danger and the requirement of an ultrasound before a procedure. It also has a 24-hour waiting period and requires parental consent for minors.
Those restrictions would have remained in place whether the amendment passed or failed. The amendment simply would give state legislators the power to put ever tighter restrictions in place — including a ban that wouldn't have been possible without this summer's U.S. Supreme Court ruling and a change to the Kansas Constitution.
Meanwhile, Republican State Sen. Mark Steffen said he wants legislation to recognize "life starting at conception," according to the Kansas Reflector. The Value Them Both group backing the amendment strictly avoided discussing what sort of restrictions might be put in place during the run-up to Tuesday's vote.
The Value Them Both coalition was also mum on the topic. When Steve Kraske of KCUR's "Up To Date" pressed Spokesperson Danielle Underwood on the issue, she would not say what she or the coalition wanted to come next.
"It doesn't really matter what my opinion is," Underwood said. "It matters what the opinion of the people of Kansas is."
But at least one bill banning abortion was introduced in the Kansas Legislature. Lawmakers did not act on the bill before adjourning for the rest of 2022.
Alesha Doan, an abortion policy expert at the University of Kansas, said work by abortion opponents over the last 30 years has had one goal in mind — a full-blown abortion ban in Kansas.
"That's what this amendment is designed to do," Doan said. "And for a politician to not answer that is also disingenuous."
Laura Ziegler is a community engagement reporter and producer at KCUR. You can follow her on Twitter @laurazig or email her at at lauraz@kcur.org.
Dylan Lysen reports on politics for the Kansas News Service. You can follow him on Twitter @DylanLysen or email him at dlysen (at) kcur (dot) org.
Blaise Mesa reports on criminal justice and social services for the Kansas News Service in Topeka. You can follow him on Twitter @Blaise_Mesa or email him at blaise@kcur.org.
The Kansas News Service is a collaboration of KCUR, Kansas Public Radio, KMUW and High Plains Public Radio focused on health, the social determinants of health and their connection to public policy. 
Kansas News Service stories and photos may be republished by news media at no cost with proper attribution and a link to ksnewsservice.org.