Concordia, KS- As the Brown Grand Opera House, Inc. continues to celebrate its 115th anniversary the Wichita Children's Theatre performed for over 1,000 area students on Friday, February 10, 2023. The Wichita Children's Theatre presented two short musicals entitled The Three Little Kittens and Yankee Doodle. The students attended from Concordia, Beloit, Miltonvale, Glasco, and Pike Valley and were in grades K-6. The theatre was filled with excitement and laughter – many experiencing the Brown Grand for the very first time.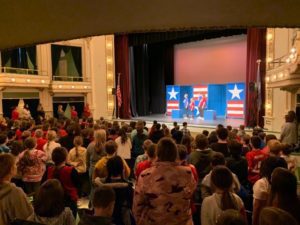 The Wichita Children's Theatre Professional Touring Company performs from September through February in Kansas and Nebraska.  The Company is professional in every facet, complete with storybook sets, costumes, and props appropriate for each production.
The Three Little Kittens is a musical comedy adaptation by Kevin M. Reese based on the popular children's story. The three little kittens have lost their mittens–but they're not just going to sit around and cry about it! These are definitely not your ordinary house cats. The kittens all learn many valuable lessons, but the most important is to always tell the truth.
The Yankee Doodle musical comedy is a broad sweep of big and little deeds accomplished by men and women whose lives have impacted the United States. Yankee Doodle is a rousing salute to the "movers and shakers" which includes famous as well as forgotten figures and events. This patriotic extravaganza glorifying American achievement is told through a sequence of dramatic vignettes from Paul Revere to Charles Lindbergh, from the creation of the ice cream cone to the beginning of mass-produced Valentines, from the inventions of Thomas A. Edison to the signing of the Declaration of Independence.
To learn more about the Brown Grand and other upcoming events at the theatre, please visit www.browngrand.org/events or call (785) 243-2553.